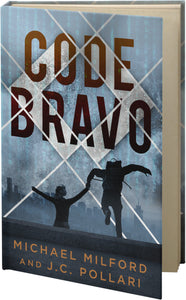 Code Bravo Maths Novel
Regular price $14.00 Sale
Schoolkids one moment, accused terrorists the next. When his mysterious uncle is murdered, 16-year-old Will Roberts and best friend Eliza are dragged into the machinations of a deranged mastermind bent on slaughter at an unfathomable scale. Hunted by authorities and killers alike, their only hope is to find out why someone was so desperate to have Will's uncle dead, if they are to save themselves and the city they call home. 
To do so, Will and Eliza must draw on every scrap of intelligence they have to stay alive and out of the clutches of the police and the gunsights of the fanatic's army of devotee killers. With the help of old friends and unexpected allies, they believe they can work out where the madman will strike. But, massively outgunned and with the police closing in, will their chase to save the city end up dooming them all?
The world's first young adult maths thriller, stealthily filled with 26 key mathematical concepts. Each of the concepts is accompanied by a tutorial, worksheet and worked solution in the Maths in Fiction resource (available as an additional purchase). 
Details
Formats: paperback or ebook
Pages: 263
Age range: 12 upwards
Novel Contents: The novel itself contains contents, themes, action and some violence that is consistent with mass market young adult books like The Hunger Games, the Artemis Fowl series and Alex Rider series.
All content is presented to the standard or better of contemporary fiction: children never kill anyone (unlike in The Hunger Games), action scenes and associated violence is presented where possible in terms of the emotional reactions of the characters and less so as explicit violence.